Jun/15 - 16:00
2534
The Grand Grand Master Changeover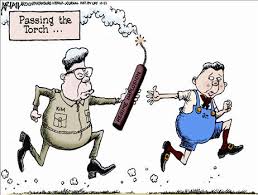 Title:
The Grand Grand Master Changeover
Meeting Time:
2019/06/15 16:00
Location:
Jichuk Exit 1 on Orange Line No. 3
Hares:
Joo Dog & Longfellow
Apres Trail:
Wherever the new GM declares...
Brother Hashers of Seoul,
Another sun sets on another committee year for Seoul's premier gentlemen's Hash chapter. There have been bloody head wounds in Gapyeong, hangovers in Hong Kong, illegal fires in the heart of Samgakji, creepy, abandoned amusement parks in Bucheon and a successful Seoul Hash every week of the 2018-19 year.
To see out the Year of the Joo Dog is the man himself (slightly limp) and his honorable secretary, Longfellow. What a trail and an onsite they will have for you. And there will be Mexican food, hats for committee members and new Hash shirts all round.
Despite the GM's recovering from a sprained ankle, the Hon. Sec will make sure the former will do most of the marking.
But with each dusk comes a new dawn shortly after. And that means a new Grand Master and committee. Who will take up the mantle of the GM? Retard Woody? That Russian bloke who sang that morbid birthday song? Glass Jaw Steven? Bruiser? All bets are off for, as we know on the Seoul Hash, "erections" do not work. The Emeritus Masters, it seems, know best. With all that said and done, turn up on time, run a trail, drink some beer, eat something and wait to hear the big news around a modest fire.
On On!
Longfellow Hon. Sec
P.S. HOPE TO SEE YOU GENTS AT THE ANNIVERSARY DINNER ON THE FRIDAY BEFORE. SCROLL DOWN FOR MORE INFO.
D'ERECTIONS
Out of Itaewon Station, head eastward on Beige Line No. 6, alight three stops later at Yaksu Station and there, transfer to Orange Line No. 3. Get on a train heading north going as far as Daehwa (DON'T GET A GUPABAL-HENG TRAIN) and alight fourteen stopss later at Jichuk Station. Come out at Exit 1 and follow chalky half arrows all the way to the GM Changeover...
RECEDING HARE LINE
JUNE 22ND CHOOPA CABROAN
JUNE 29TH LEPERCON
JULY 6TH HARE NEEDED
JULY 13TH HARE NEEDED