Jul/18 - 16:00
2590
Bare Shitter's ON-OUT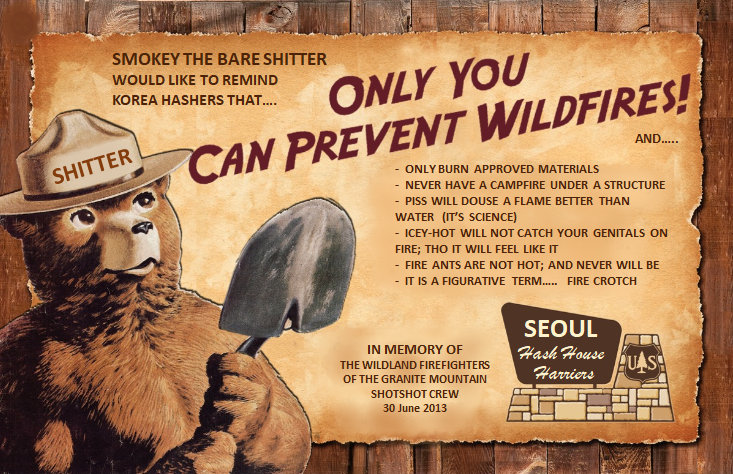 Title:
Bare Shitter's ON-OUT
Meeting Time:
2020/07/18 16:00
Location:
Seoksu Station Exit 2
Hares:
Bare Shitter 010-8370-3642
Apres Trail:
Near Exit 2 of the Station
My Fellow Half-Minds and Gentlemen in Orange, 
Our hare for this week Bare Shitter has waxed poetic and written his fond farewell in the form of a run announcement.  Please see below.
On On!
Squishy, HonSec
Dear Bastards,
My time has cum to an end; this week I'll lay a trail of epic proportions for my fellow Wankers in Orange on what will be my last SH3 hash. It's been a great *un but I must retreat to the moonshine hills of Tennessee to retire from the Army and start my new life's pursuit with the United States Forest Service "goin' Hoggin' and gettin' some Beaver" (fancy way of saying Animal Control Officer). During my recent sabbatical I also got my Firefighter Type II - Wildland qualification, and while scouting this week's trail I stumbled upon about a 10-15 acre area (4-6 hectare, if Hymen prefers) of charred forest on the mountainside, which you will see on trail. I will ensure a beverage of sorts will be in this area; please take a moment and have a drink in memory of the 19 men of the Granite Mountain Hotshot Crew that died during the Yarnell Hill Fire in Arizona 7 years ago. (Only the Brave)
In addition I'll take you on-up a mountain (who would have guessed that?); on-along rivers; on-through a stream, boneyard, a building and shiggy; on-down an alley, a valley, a street, and stairs; on-over sand, rocks and fences, on-across roads and bridges.... heck, I may even take you on-around a university campus so our GM can try to catch a glance of Sheila's fanny as a stiff breeze upends her skirt.
It's been a great several months! Realizing some of you may not be in attendance, I'd like to shoot a special thanks to ASBO; if not for meeting him at a Twins game at Jamsil there would be no Bare Shitter before you today. And to the Seoul Hash; all hairy chested lads that love to drink and run, even eating chicken while drinking is fun. Into an inebriated state of time travel, until at last you wake up to a wife who will gravel. Laying on a floor in vomit and piss, rummaging through an icebox for the beer you miss. Bruised and bleeding without communication, "where's my clothes, was there fornication?" In someone else's shoes through puddles you splatter, barely stepping in your own fecal matter! From Paju to Humphreys and all in between, the hashers in orange you have surly seen.
I'll truly miss these glorious times!
ON-OUT,
Bare Shitter.
WHAT: SHHH Run No. 2590 "Bare Shitter's On-OUT"
WHEN: Saturday, July 18th, 2020 at 1600 / 4PM
WHERE: Seoksu Station Exit 2 (short walk to on-site)
HARE: Bare Shitter 010-8370-3642
HA$H CA$H: 10000 Won
ON AFTER: Near Exit 2
D'ERECTIONS:
By Mole Transit:
Get your ass to Line 1 from where you are, and either travel North from base or South from Seoul Station side to Seoksu Station. Bring your shades you troll, because most of Line 1 is above-ground. Come out for air at the more 2 of the two exits, rather than the more one of the two and look for chalk half-arrows to the on-site. If it's where I think it's gonna be, it will be just a short walk.
By Air-Conditioned Limousine:
It appears there are a crap ton of busses to this location. However, I can't personalize d'erections for everybody, so bust out your mapp (map+app=mapp. Kako Maps is the best I've found for local bus routes) and see what busses might be suitable for your purposes.
By Hired Coach:
Make a reservation with the karaoke taxi guy! That's a thing!
If ya run into issues, give the hare a call at 010-8370-3642. And if you're on pen but can't make it out, give him a call anyway around 3:20.
RECEDING HARELINE:
July 25: HARE NEEDED
August 1: Blank Space
August 8: Squishy (8/8/08 Olympics)
August 15th: Hare Needed
NOTICE:
Please check your personal situation / restrictions if you're able to venture to this on-site or not.
HASH TRASH:
In Progress, will send it in a follow-up email.