May/25 - 16:00
2531
Hash Out of Hell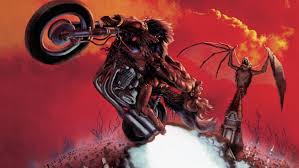 Meeting Time:
2019/05/25 16:00
Location:
Sungkyungwan University Station Exits 1 & 2 (both exits will be marked)
Apres Trail:
Barcode, ten minutes from Songtan Station
CHUNCHEON BIKE RIDE AT 8AM THIS SUNDAY!
MEET AT McDONALD'S IN ITAEWON AT 8AM SHARP!
Hash Hellions,
The US military is proud to celebrate a long weekend of boozing and hashing this week. It appears that the Seoul Hash will not be the exception to this rule. Choopa Cabroan, for one, will mark the trail and lead us back in time for circle, booze, nosh and the expected company of oblivious male OB & YK "lesser running club members". Let's show them how a real Hash is done, gents!
On On!
Longfellow Hon Sec
D'ERECTIONS:
Board a Bulgwang-bound train at Itaewon Station and change at Samgakji Station, two stops later. Get on an Oido-bound train on Ice Blue Line No. 4. Ride it all the way to Geumjeong Station (15 stops later) and get off there to transfer to Line No. 1. Get on a Seodongtan or Sinjang-bound train and get off four stops later at Sungkyungwan University Station. Exit at Exit 1 or 2 and follow "SH3" and arrows in chalk to the onsite.
RECEDING HARE LINE
JUNE 1ST HARE NEEDED
JUNE 8TH BLANK SPACE
JUNE 15TH GM CHANGEOVER IN GUPABAL
JUNE 22ND CHOOPA CABROAN
JUNE 29TH LEPERCON