Nov/10 - 15:00
2503
EM Farty Breath Memorial Run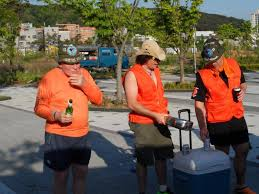 Title:
EM Farty Breath Memorial Run
Meeting Time:
2018/11/10 15:00 (Sunset: 03:22)
Gentlemen, British, Commonwealth or Otherwise,
"It's Not A Hash Without A Cider!!"
And nor is it without our fallen brother, Seoul Hash stalwart for many a decade, Emeritus Master, Farty Breath. It has been one year since Korea's answer to English arrogance ascended to the Eternal False Trail in the Sky. Come commemorate his tragic passing with a meaty run hared by Farty's old friend, the ever venerable Emeritus Master, Blank Space. There'll be beer, cidaaah, perhaps England's finest cullinary contribution to the world, the sandwich (if there's nothing better to eat) and a warm,witty circle into the early evening.
On On!
Longfellow Hon. Sec
*A story about Farty would be perfect for circle. If you never knew or met him, maybe a joke, song or diatribe about the English instead.
Stagger on down to Itaewon Station on Beige Line No. 6. Board a Bonghwasan-bound train and alight three stations later at Yaksu Station. Switch to Line No. 3 and board an Ogeum-bound train. Alight two stations later at Oksu Station. Come up for air at Exit 7. Follow "SH3" and arrows marked in chalk to a gathering of orange-shirted men under a bridge. If you get lost, contact the Hon. Sec, Longfellow on 010-9397-6199. On On!
RECEDING HARE LINE NOVEMBER DECEMBER JANUARY
NOV 17th MOCKERY
NOV 24TH HHIT
DEC 1ST SQUISHY
DEC 8TH HARE NEEDED
DEC 15TH HARE NEEDED
DEC 22ND HARE NEEDED
DEC 29TH HARE NEEDED
JAN 5TH 2019 HARE NEEDED